Whether it's the commute to work, the school run, university with friends or a spirited drive in the country, Fiat and Abarth has a funky way to do it – all in typical Italian style.
Original, ingenious and surprising, the Fiat Panda knows how to evolve while staying true to itself. King of small cars, the Panda is a Fiat institution, with clever solutions, great value, and a flair that will reward at every turn. The Panda is available in three main guises: Panda, Panda 4×4 and Panda 4×4 Cross all powered by Fiat's spunky 0.9-litre TwinAir petrol engine with Start&Stop.
By reducing engine size – not only by capacity, but by number of cylinders, too (the TwinAir only has two cylinders as its name suggests!) – the Panda benefits from major weight reduction and packaging that turns into interior space and drastically reduced fuel consumption and emissions (up to 30%). But its turbocharger means the Panda is no slouch: with 63kW, it is still capable of 0-100km/h in 11.2 seconds while returning as low as 4.2 litres/100km on a combined cycle.
The Panda is available in Easy (on the stand at the Festival of Motoring) and Lounge specification levels. ABS with EBD, Vehicle Dynamic Control, four airbags, climate control and front electric windows are standard safety and comfort features. Lounge models add front fog lights and roof rails for enhanced styling, while occupants will enjoy automatic climate control, a leather steering wheel with integrated audio controls, and Fiat's Uconnect and Bluetooth radio with USB and four speakers. The Fiat Panda is sure to delight wherever it goes.
You don't need much to get a lot – that's the Fiat Tipo's incredible value proposition. Available in sedan and hatch body styles, Tipo is all about space and economy. It's class-leading interior space make it the ideal family car and it certainly will be lapping up the school run miles with economy as low as 3.7 litres/100km.
Three engines are available to suit your taste: 1.4- and 1.6-litre petrol engines and a 1.3-litre diesel. Specification levels extend across Pop and Easy, both with appropriate features to make your life, well, easy! Safety features include Anti-Slip Regulation (ASR) and hill-holder and even Tyre Pressure Monitoring System (TPMS), while convenience features include split-folding rear seats and even rear parking sensors in Easy specification. Starting at just R239,900 there's no matching the Tipo for space and style.
More daring and seductive, there are few cars as iconic as the Fiat 500. It's more playful and spirited than ever, whether in hatch or convertible 500C guise. Enjoy fun, sun and surfing – online of course – with the innovative features in the 500, including Uconnect and a 7" touch screen. Pop, Lounge, Sport and Sport LE models provide just the right combination of trim and tech to suit your style, while safety is never compromised thanks to seven standard front and side airbags.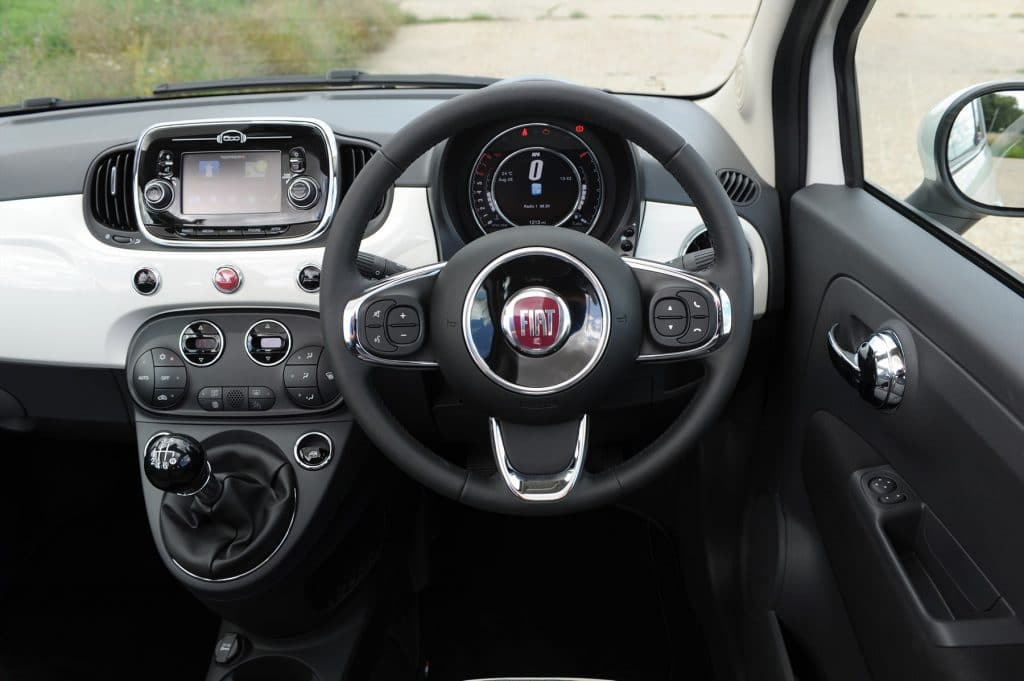 Top-of-the-range LE models feature Fiat's Uconnect Link with Apple CarPlay and Android Auto that also allows Bluetooth audio streaming. And whether its through the glass roof or convertible sunroof, 500 will surely let you soak up the summer sun and fun.
Variations on a theme, the 500X takes the spunky Italian to the next level with leading-edge SUV technology. 500X provides metropolitan muscle, while 500X Cross adds no-holds barred adventure to handle all terrains.
With the choice of 6-speed manual or automatic dual clutch (DCT) transmissions, 500X harnesses Fiat's 1.4-litre MultiAir II turbocharged engine. There is a great combination of performance (103kW and 9.8 seconds 0-100km/h) and fuel economy (as low as 4.9 litres/100km on the extra-urban cycle), 500X goes as well as it looks. And occupants won't be disappointed in the trim levels – luxury, safety and convenience all combined for the ultimate urban warrior.
Dual zone automatic climate control, rain-sensing wipers, auto-dimming rear view mirror, rear-view camera, and UconnectTM pre-set with Apply CarPlay and compatible with Android AutoTM, means the 500X is ready for any adventure – in the traffic or the great outdoors.
If it's enthusiastic driving you're after, then the legendary Abarth models will suit your performance driving desires. The ultimate Abarth mission is to transform the ordinary into something extraordinary. Since its re-launch in 2007, Abarth has been bringing the emotions of the racetrack through its performance kits and production touring and racing versions of several Fiat models​, including the 500 and 124 Spider.
Captivating, dynamic and bold, the 595 Competizione is the ultimate Fiat 500 for the road. Enhanced performance, rocking good looks, and innovative technology all combine to deliver a thrilling driving experience for the enthusiast. Press the Sport button and the Abarth adjusts several parameters, including maximum torque delivery, power steering calibration and the acceleration pedal. The system also works on the TFT instrument cluster, conferring a more racing appearance. Suddenly, the Abarth 595 comes alive in a totally different way, allowing the practicality of the 500 experience and the thrilling character of a sports car.
The Abarth 595 is available in 107kW, 121kW or 132kW specification in manual or automatic transmissions enabling 0-100kmh in 7.3 seconds and up to 225km/h performance.
The Abarth 124 spider aims at sweeping a new generation of enthusiasts off their feet with its performance and technical DNA. The model combines the authentic roadster experience packed with thrills, technology, safety with a touch of unmistakable Italian design. Developed with the Abarth Racing team, the car guarantees all the thrills and fun that only a real spider can offer.
Classic front-engined rear-wheel drive driving dynamics for the purist is made even more exciting thanks to 125kW and 250Nm of torque to offer a top speed of 232km/h and 0-100km/h in 6.8 seconds. Truly exhilarating!
Fiat's display at the 2019 Festival of Motoring really does encompass a product to suit every taste and shows Fiat Chrysler Automobiles South Africa continued commitment to the local market.