The Lexus ES has enjoyed three decades of success in the mid-size sedan category and is now forging a more ambitious path with its seventh-generation model. Long renowned for its comfort, refinement and luxury appointments, the new ES builds on its established strengths with an all-new chassis that allows for a more dynamic exterior design and even better driving performance.
It stands as a further expression of Lexus' design direction and commitment to crafting vehicles that provide more excitement and emotional connection, helping bring its vision for its future to a wider audience. The ES is more spacious, quieter and safer than ever before, while a new generation of customers is being introduced to a sedan with sharpened performance, class-leading safety technology and a level of craftsmanship rarely found in this market segment.
A REFRESHER ABOUT THE ES
The original ES launched the Lexus brand in 1989, alongside the LS flagship sedan. Since then, its popularity has been built on class-leading comfort and Lexus' commitment to delivering a human-centred experience, expressed through intuitive driving behaviour and a driver-focused cockpit.
Lexus has gained valuable insights by listening to the opinions of luxury car buyers and applied the intelligence gained to extensive testing of the ES on different types of roads worldwide. Today, the ES is Lexus' most popular sedan, having amassed more than 2.3 million cumulative global sales over the years.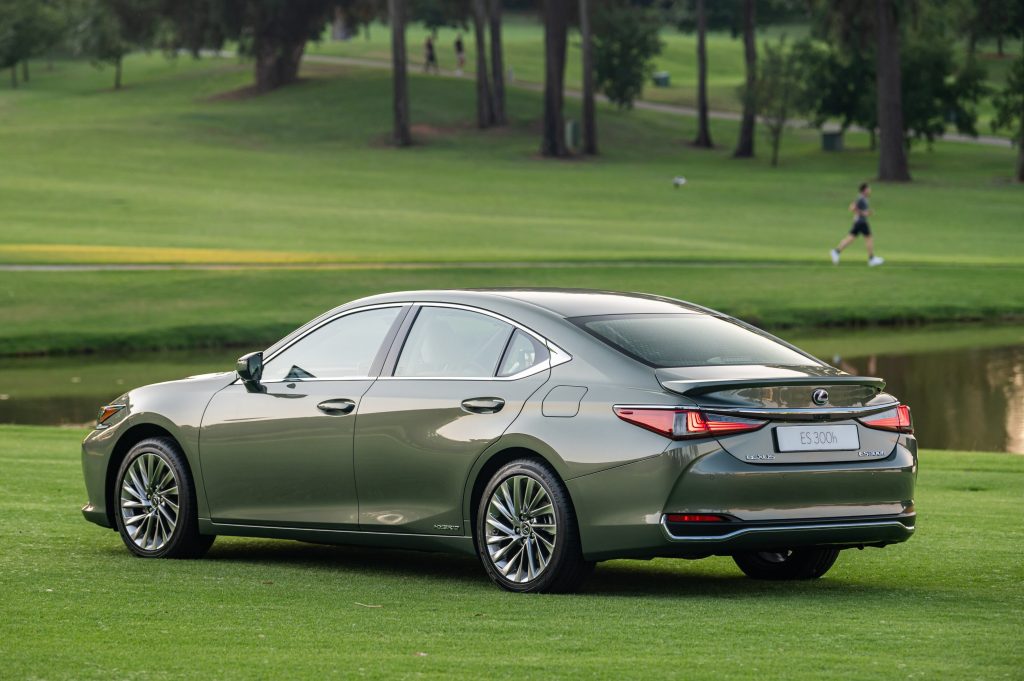 SOUTH AFRICAN SPEC BOAST TWO HYBRID MODEL GRADES
The eye-catching styling, made possible by the use of an all-new Global Architecture-K (GA-K) platform, has particular appeal to customers, together with a more engaging driving experience and even higher safety provisions.
South Africa launches the minor change ES with three model grades, ES 250 petrol EX grade, ES 300 hybrid SE and SE grades. These are the same model grades as the previous model since launching the entry-level EX grade for hybrid in 2020. The ES is powered by a new, fourth-generation self-charging hybrid system.
EXTERIOR DESIGN AND THE CONCEPT OF 'PROVOCATIVE ELEGANCE'
Just to reiterate, the long wheelbase (2870mm) allows the wheels to be pushed closer to the car's corners, with wide front and rear tracks. Its stance and proportions reflect its new-found performance capabilities and give the ES the kind of eye-catching appeal that will make people take a second look.
Yasuo Kajino, the ES Chief Designer, describes the car's design as 'Provocative Elegance': "The ES has always been an elegant luxury sedan. For this minor change generation, we have added daring design elements that challenge buyers' traditional expectations," he said.
The GA-K platform allowed for a lower bonnet line, which gave Kajino's team the freedom to produce a distinctive silhouette with a strong downward slant, creating a dynamic yet fluid shape.
Up front, the ES' face is slightly different, with variations according to model grade. The ES and Takumi versions display elegant bars that radiate from the centre of the updated signature Lexus spindle grille. The frontal design was revised with a new treatment of the spindle grille with fewer vertical bars and the introduction of L-shaped elements. Slimmer units were added for both the single and three-eye LED headlights.
In a break with past generations, the design features a rearward-sloping fast roofline that emphasises the vehicle's lower stance and slippery aerodynamics. The rear end is clean and sharply chiselled, with LED lamps that wrap around the quarter panels to generate a continuous styling line when viewed from any angle.
Two different 17 and 18-inch alloy wheel designs are available between the three ES models- with the Hybrid SE boasting a new wheel design that creates a sporty and high-grade image. Even in the EX grades, the wheels have been redesigned and now feature V-shaped twin spokes that create an even sportier image than the outgoing model.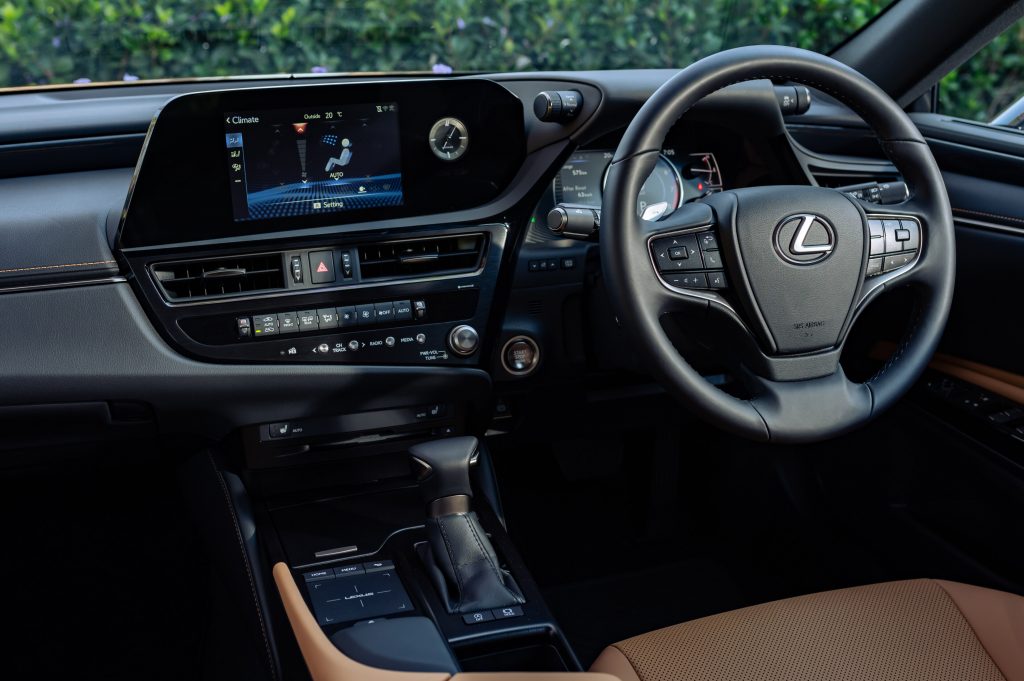 CABIN DESIGN THAT REPRESENTS THE FUTURE OF LEXUS INTERIORS
When designing the look and feel of the ES' cabin, the design team's starting point was the Lexus Future Interior concept, which blends a driver-centric cockpit with a spacious and comfortable area for the front passenger. The driver's focus is kept on the road ahead by strategically locating the centre display screen and instrument panel. Lexus calls this concept 'Seat in Control,' a simple idea that says from the moment you get in, all the controls you need are within reach and all the information you want is in plain view.
A new high-resolution 12.3-inch widescreen display has been brought forward by more than 100mm compared with the current model, debuting touch-display functionality to increase usability options for the driver and front passenger.
The driving position in the ES has been refined with a more natural steering wheel angle, revised pedal positions and even a 10-way adjustable seat as standard for the hybrid SE grade. The steering wheel itself is borrowed directly from the LS and features an ergonomically shaped rim and wood trim and integral heating elements for the SE. Heated front seats are also standard for the driver and front passenger in the SE grade.
The hybrid models are equipped with Lexus Navigation EMV. Rear passenger comfort has long been a hallmark of the ES and the new model upholds this quality and has sleeker, sloping exterior roof line. A lower hip point and carefully configured headlining preserve headroom while the longer wheelbase ensures generous legroom.
In the cabin, a new Mauve trim insert option has been introduced for the new hybrid SE grade, while the EX-grades have Hazel and Rich Cream trims as new.
There are also two new exterior colours for the range, namely – Sonic Iridium, Sonic Chrome and Graphite Black across the whole range.
Also standard on the ES range are keyless smart entry, a moonroof, twin-front and twin-rear USB-C ports, DAB+ digital radio, 10-speaker audio (EX grades), Mark Levinson 17 Speaker audio (SE) and both with Apple CarPlay and Android Auto compatibility.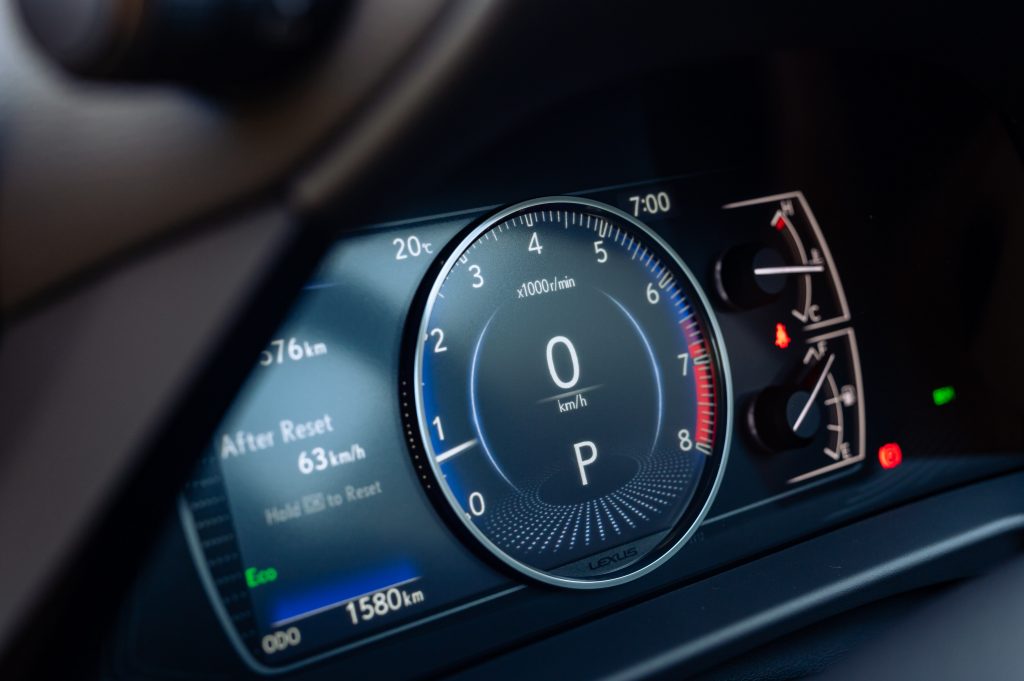 POWERTRAIN AND PERFORMANCE
The ES 250 is available with a high-efficient, direct-injection 2.5-litre four-cylinder petrol engine and an eight-speed Direct Shift automatic transmission. Outputs are pegged at 152 kW at 6600 rpm and 243 Nm at 4000-5000 rpm. The fuel consumption on the ES 250 is 6.6 litres/100km and it dispatches the 0-100 km/h sprint in 9.1 seconds and lastly, its top speed is clocked at 210 km/h.
The ES 300h grades are equipped with Lexus' fourth-generation, self-charging hybrid drive system that delivers exceptional fuel-efficiency. It's also impressively responsive and has minimal emissions for a mid-size luxury sedan. It couples the aforementioned ultra-efficient 2.5-litre Atkinson cycle four-cylinder petrol engine with a lighter, more compact and more power-dense electric motor.
Total system power is 160 kW and combined cycle fuel economy is from 4.6 l/100km. The ES 300h sprints from 0-100 km/h in a laudable 8.9 seconds and is electronically-governed to a top speed of 180 km/h.
CLASS-LEADING SAFETY PROVISIONS
The seventh-generation ES features the advanced safety technology expected from a Lexus. It's equipped with full suite of passive safety equipment comprising driver and front passenger airbags; two driver and front passenger knee airbags; two driver and front passenger seat-mounted side impact airbags and two front-to-rear side curtain airbags.
Standard safety technology further includes a rear-view camera with park distance control and all-speed active cruise control. The EX-grade now also comes standard with blind spot monitor. The SE grade boasts the Lexus Safety System which further includes Lane Departure Alert, Pre-crash System, Lane Keep Assist and LED-Adaptive High-beam System (AHS).
LEXUS PRICES AND SERVICE INFORMATION
The 2021 Lexus ES comes standard with a best-in-class 7-year/105 000km Warranty and Full Maintenance Plan. This approach illustrates the belief Lexus has in its vehicles' master craftsmanship and outstanding build quality. Vehicle service intervals are pegged at every 15 000km, alternatively once a year.
The price points for the range are Lexus ES 250 EX retails for R719 400, the ES 300h EX for R774 400 and the top of the range retails for R948 400.