BMW Group South Africa on Tuesday opened a new R260m campus at Midrand, Gauteng. The Midrand Campus now consists of BMW Group South Africa's head office, BMW Financial Services, a new Dealer Training Centre, office space for an additional 500 colleagues, and a new Welcome Centre, restaurant and gym.
This project is the latest in a series of investments completed in South Africa over the past two years by the BMW Group. These include an R6.1bn investment into Plant Rosslyn for the ramp-up of the new BMW X3, an R73m all-new training centre at Plant Rosslyn, a R260m co-investment in an all-new regional distribution centre (RDC) – also in Midrand – and R2.2bn invested by our dealer partners into the dealer network.
The relocation of parts warehousing has created space at BMW Group South Africa's Midrand head office. BMW Group South Africa's IT operations have grown at a phenomenal rate recently, increasing its headcount from from 134 in 2014 to more than 1000 now – nearly 700% growth in five years. This shows BMW Group's commitment to growing skills, knowledge and expertise in South Africa, as well as the growing importance of IT in the company.
The company's combined IT operations exported more than R1bn worth of expertise in 2018, and have firmly established itself at the heart of the BMW Group IT services, looking after BMW facilities in countries all over the world.
Such is the space available at Midrand, there is capacity for further large-scale expansion if required.
Dealer training at the heart of a customer-centric company
As part of the Midrand Campus development, a brand-new technical and non-technical dealer training facility has been built, giving BMW Group's training department a centralised, state-of-the-art facility to help our dealer partners meet the exacting standards expected by our customers.
The 5500sqm, R109-million facility offers training on all BMW Group brands for the Dealer Network. The centre can host 220 training delegates a day and contains 17 lecture rooms. It also offers a MerSETA-aligned Apprentice Training Programme to ensure the Dealer Network has a pipeline of technicians.
The Training Centre plans to deliver 150 000 training man hours in 2019.
Midrand Campus reflects growth and diversification of BMW Group South Africa's business
Tim Abbott, CEO: BMW Group South Africa and Sub-Saharan Africa said the combination of the headquarters, BMW Financial Services, dealer training and Group IT into one campus offered "brilliant spaces for collaboration, sharing, networking and interconnectedness".
"The Midrand Campus will accommodate IT colleagues offering services to the BMW Group in 48 countries around the world, and will therefore operate around the clock," Mr Abbott said.
"It's also exciting to bring dealer training into the heart of the Midrand Campus. This state-of-the-art training centre shows how BMW Group is an ever more customer-focused company."
"Amplifying and reinforcing our activities here in South Africa marks the next step along our way to implement the BMW Group IT strategy", said Klaus Straub, CIO and Senior Vice President Information Management, BMW Group. "By increasing our in-house software development capabilities we become highly flexible and gain speed. The great performance of the South African IT team significantly contributes to the success of the BMW Group in becoming a leading tech company for mobility services," Mr Straub said.
Dr Herbert Grebenc, Senior Vice President: Real Estate Management and Corporate Security at BMW AG, said that "the office of today is no longer a mere work address. It is a means to excite, inspire and connect our people and a key enabler for our business success".
The new Midrand Campus "symbolises the innovation, sustainability and the focus on our people that have always been at the core of our philosophy," Dr Grebenc added.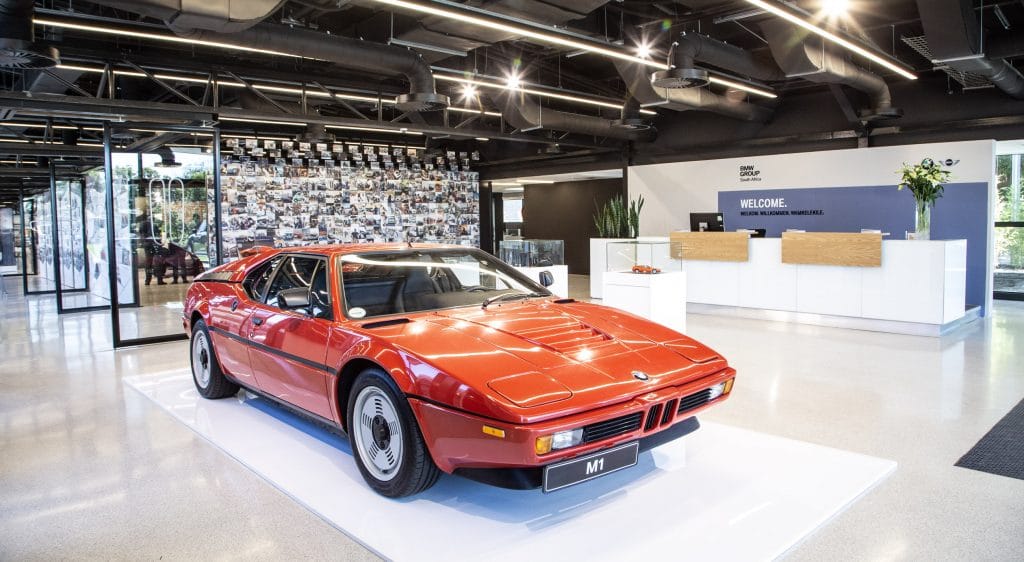 The BMW Group Midrand Campus represents international best practice, with sustainability at its core.
BMW Group SA's new Midrand Campus was constructed with the highest standards of sustainability. Re-using a warehouse – not an all-new build – is testimony to BMW's commitment to sustainable principles.  Additionally, all established trees were moved, not felled, and trees that were unable to be transplanted were donated to good homes.
BMW Group Midrand Campus interesting facts:
Total man hours worked:   600 000 hours
Total concrete poured:      1 600 cubic metres
Total bricks:                          1.4 million bricks
Total litre of paint:               21,500 L
Additional parking bays     1 200 (of which 20% for alternative energy vehicles)
Structural steel erected:    190 tons or 32 African elephants
Aircon ducting:                    4 km
Electrical cables:                 11 km
Water piping:                        1.2 km
New paving:                          12 000 m2 or two soccer fields
Running track:                     1 km
Injuries on site:                    0