The first BlackBerry KeyOne (review) was a good smartphone choice for business focussed users, who needed a device to keep them productive and secure. The new Key2 builds on this, by offering an enhanced camera experience, upgraded specs and an even better typing experience.
As with the previous model, the main drawcard of the Key2 is one that will find most of its appeal with die-hard BlackBerry and physical QWERTY keyboard fans. The physical keyboard has been slightly redesigned with keys that are now nearly 10% bigger than those featured on the BlackBerry KeyOne, in order to boost accuracy and precision while typing.
Moreover, the physical keyboard includes the Speed Key that enables shortcut access to a number of functions on your device at any time, without having to return to the homescreen or search in an app folder to access the apps, contacts, and functions you use and communicate with most.
Optics
The other main feature of the new Key2 is its upgraded camera tech, as the Key2 is the first BlackBerry to offer dual-rear lenses. You now get dual 12 MP cameras that also pack dual tone LED Flash that take good looking snaps and video during the day (when lighting conditions are ideal).
This snapper won't be giving cameras on Samsung Galaxy range or latest iPhones a run for its money or even cameras on midrange devices from Huawei for instance. Unlike the Galaxy midrange smartphones such as the A8 for example, the BlackBerry Key2's main dual-lens snapper takes below average quality shots at night or when lighting conditions are bad. However, this snapper is good enough for most kind of photos and videos that users need in a modern smartphone. As on iPhones, the selfie snapper uses the screen as a 'Selfie Flash' and shots taken via the 8 MP Fixed Focus front-facing camera are good.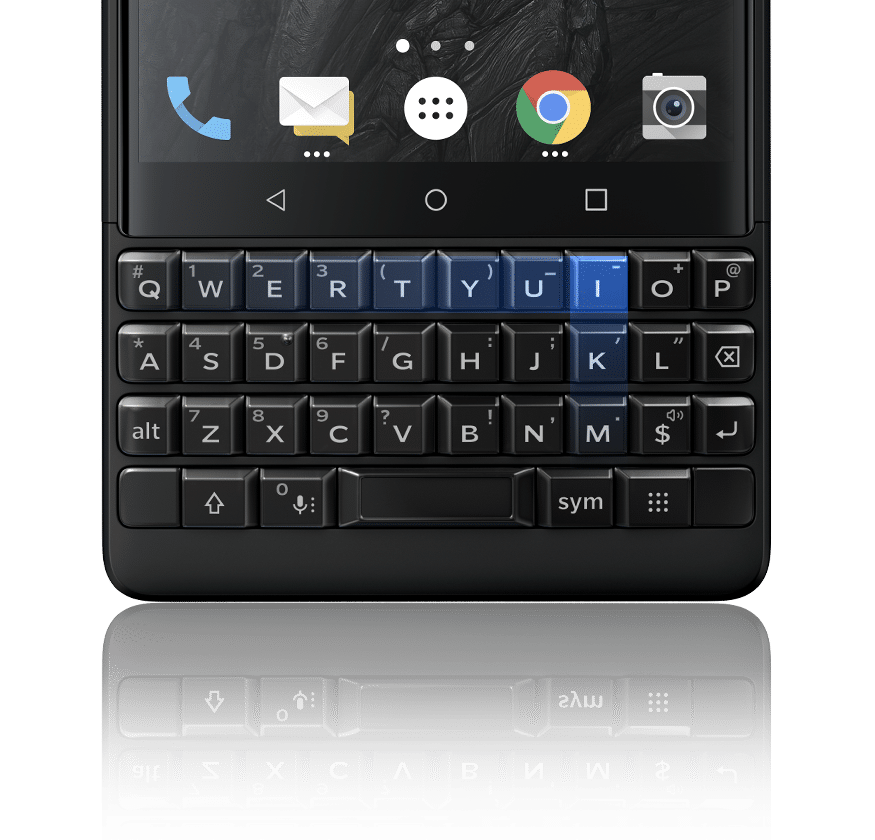 You review these pics on the smartphone's 4.5″ (1620 x 1080; 433 PPI) IPS LCD, which is sharp, detailed and vivid (for a non-OLED display). However, it is made with productivity in mind, whereas most all-touchscreen smartphones of today are made to let users consume content, which includes music videos on your favourite music streaming app, mobile games, YouTube clips and Instagram stories. The 3:2 ratio square screen of the Key2 is not the best platform to showcase all of these.
More impressive are things that roadwarriors will appreciate and those are great battery life and a more secure Android experience. Our review unit was powered by Android 8.1 Oreo with enhanced security and privacy features built-in through DTEK by BlackBerry. This application brings new scanning features for proactive security checks to easily identify and mitigate potential security risks, such as unwanted data access by a downloaded application on your smartphone and delivers monthly Android security updates to always keep your device protected from the latest threats.
The typically sized 3500 mAh delivers some untypical battery life of up to two days for non-demanding users, while power users such as us can easily get to one and a half days.
Performance on the device is also snappy thanks to it being powered by Qualcomm's SDM 660 chipset that is an Octa-Core processor boasting four performance cores running at 2.2 GHz and four power-saving cores clocked at 1.8 GHz.
Verdict
If you want a work phone with great battery life, added security and a heap of productivity tools then the Key2 is for you. It is a similar story for BlackBerry fans and QWERTY keyboard lovers, however, if you just want a smartphone to consume media on then there are better options available – especially at its recommended retail price of R12 999, which is R4k more than its predecessor.