Autopilot Workflow Solutions, a cloud platform that enables companies to speed up the implementation and roll-out of electronic forms, has today announced its availability to users worldwide who access the Microsoft Teams app, a collaboration app built for hybrid work.
"With many employees collaborating in virtual meetings, our solution has become an essential tool for businesses looking to streamline and digitize their internal processes," says Autopilot Founder Adam Shapiro. "The availability of our Autopilot Workflows product in the Microsoft Teams app enables us to utilize its collaborative power to accurately capture information while ensuring compliance and limiting risk, thereby saving businesses time and money."
Autopilot Workflows is also easy to monitor and manage. By accessing a simple dashboard, one can oversee all actions and instantly request insights by person, process, or task type. This allows for clear audit trails and rapid reports.
Many departments spend more than 50 hours per week on unnecessary administrative tasks. Autopilot automates 100 000 workflows per month for companies in various sectors. The Autopilot Workflows app revolutionizes these processes, with many employees working from home. In addition, the app replaces the manual document- and-data approval process, improving the speed and convenience of what would require one to follow up and chase after information.
"We have seen a massive reduction in the time it takes to onboard our customers. By automating the process, we reduced it from ten days to less than two days. From a service delivery standpoint, Autopilot has had a significant impact. Our team was terrified of making mistakes using our manual process in the past but are now thriving on the level of service they can provide." Shares Ryan Martyn of Syntech Distribution.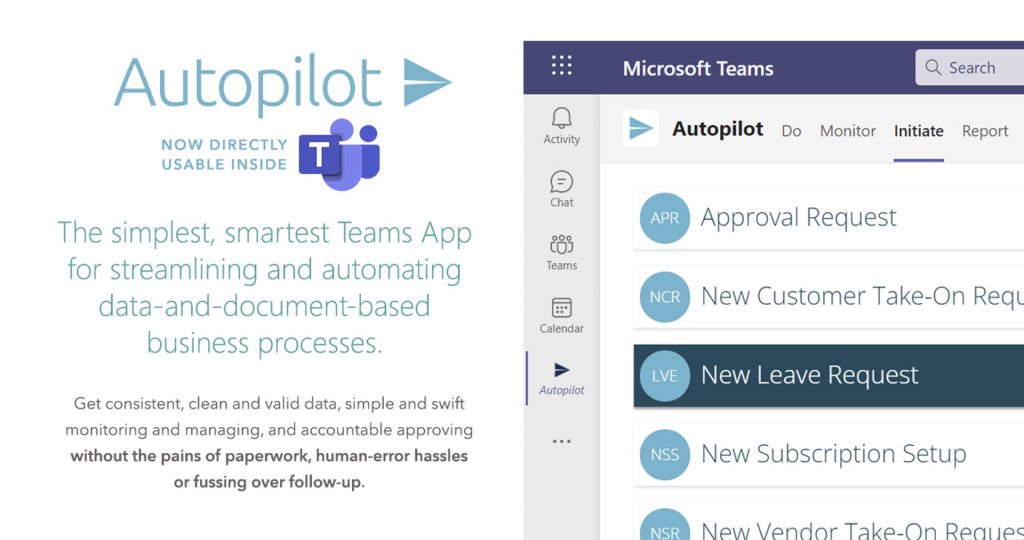 Teams users can now create tasks and assignments, submit leave requests, expense claims, purchase order requisitions, and IT support. In addition, the Autopilot Workflows app manages all customer, vendor, and employee onboarding.
"As organizations embrace the benefits of hybrid work, there is growing value in embedding digital business processes into Microsoft Teams to help support productivity and collaboration. Autopilot Workflows contributes towards enabling that value, enhancing the modern work experience with automation functionality and a rapid time to value realization opportunity," said Akash Srikewal, Director, Business Strategy – Modern Work Sales Transformation at Microsoft.
Activate templates, automate your organization's processes, and get common business workflows automated. To access Autopilot Workflows' transparent, consistent, configurable workflows visit Autopilot Workflows.