The majority of smartphones look and work the same, so when you have innovative features introduced such as with the foldable Galaxy Fold and Huawei Mate X, they get a lot of attention and consumer interest. When it comes to laptops, Asus is no stranger to pushing the innovation game through features and form factors like the ZenBook Pro Duo and touch-friendly ScreenPad feature.
The Asus ZenBook 14 (UX434F) is a highly portable (weighs around 1,3 kg and is the world's most compact 14″ laptop according to Asus) and gorgeous looking notebook PC that introduces SceenPad 2.0, the improved second-generation of the trackpad that does double duty as a touchscreen.
With ScreenPad 2.0 you get a secondary 5.65″ touchscreen, allowing you to add apps to ScreenPad for instant access such as Evernote and Spotify. You can then control your music playback via the ScreenPad, while doing research for an assignment, working on a presentation, or checking your email for instance.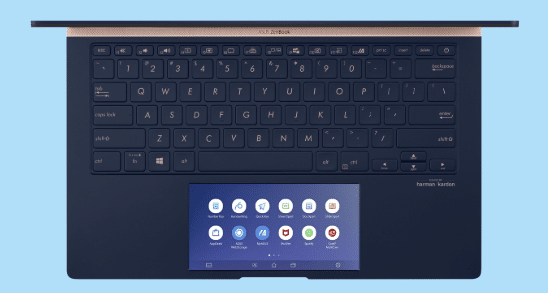 Beyond the nifty second-generation ScreenPad, the Windows 10 Pro operating laptop offers lots of performance and feature bang. Our review unit was powered by an Intel Core i7-8565U quad-core processor clocked at 1.8GHz, and sported 16GB of RAM, so performance was quite brick, whether utilising productivity apps or consuming media. Speaking of which the 14″ LED-backlit FHD (1920 x 1080) 16:9 standard display boasts excellent viewing angles, great detail and colours. The accompanying audio boom from the ASUS SonicMaster stereo audio system with surround-sound is really fantastic thanks to some tuning from audio masters from Harman Kardon. Consequently, binge-watching your favourite Netflix series, in my case, The 100 and Mindhunter, is a real treat.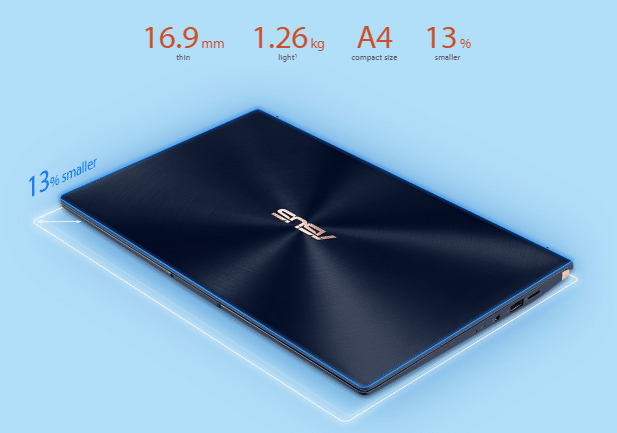 Roadwarrios looking to get some Counter-Strike: Global Offensive or Fortnite action going during their off time on business trips can easily do so, with the inclusion of onboard graphics, in this case, Nvidia's MX250 that packs 2GB of dedicated memory. This means that low-demand titles such as Civilization V and VI runs smoothly, whilst triple A games will also work at medium settings at 1080p or butter smooth at 720p.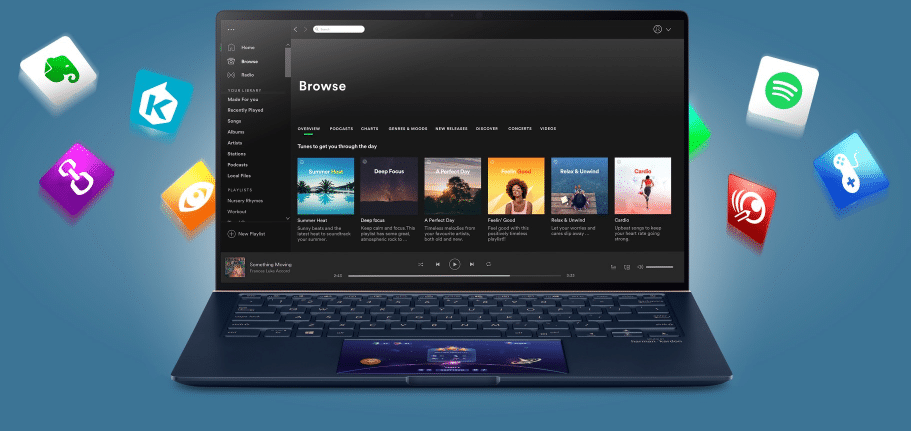 When using a greater selection of keys then A-W-S-D and arrow keys, you will find the typing experience offered by the keyboard is really good whilst the ScreenPad makes for a responsive mousepad.
With compact laptops such as these, there is always a fear that the portability will result in a sparse selection of input ports. However, Asus has put together a very decent selection including a full-sized HDMI port, USB 3.1 Gen 2 Type-C, plus USB 2.0 Type-A. In addition, battery life is also decent, with general tasks such as Microsoft Office, web browsing, email and the like delivering around eight hours of usage time. If you are a designer who lives in Photoshop, video editor using Premiere, or like those hours of casual gaming, then you can expect that battery life to be cut in half at the very least.
Ultimately, the Asus ZenBook 14 is a stunning looking laptop that will be your favourite tool on the road, in the office, and at home, whether you are employing it for work, or to filfill your entertainment needs. The price of admission is offcourse on the premium side, kicking off at R12 000 and only pressing on the up button on the budget elevator depending upon the spec you opt for.