Street Fighters Rise Up! Red Bull Hit the Streets will separate the Street Fighter V imposters from the true warriors, with the ultimate champion getting the opportunity to compete in the South African final, which takes place on 7 November 2019 in Cape Town.
The winner of this national final will head to Japan compete at the Red Bull Kumite last-chance qualifier in Japan. Only the world's most prestigious players are invited to participate in Red Bull Kumite and 15 players from all over the globe plus the winner from the last-chance qualifier will battle it out to be crowned the ultimate Street Fighter V gaming champion in December.
Esports is a billion-dollar industry which experienced a 33% growth between 2017 and 2018.
With a huge international footprint in gaming since 2006, aside from competitions, Red Bull works with athletes like Tyler 'Ninja' Blevins and Red Bull OG.
"South Africa is home to some incredible esports athletes across a variety of disciplines," says Sam Wright, a renowned local esports commentator. "A competition like Red Bull Hit the Streets allows some of the country's less high-profile players a chance to stake a claim for higher honours".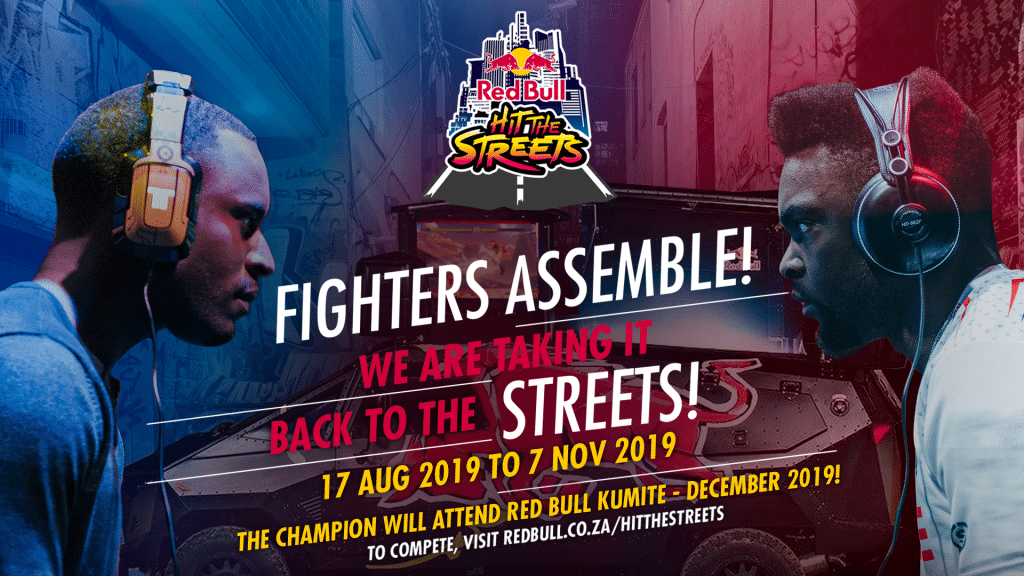 Qualifiers started on 17 August and while the first two have already taken place, there's still more chances for players to battle it out for a spot. The next two qualifiers take place from 21 to 24 September at Comic Con Africa and 27 to 29 September at rAge Expo.
Run in a standard 'double elimination format', these qualifiers will each yield a single winner who will earn a direct seeding into the national final taking place at the precinct around the Red Bull Studios Cape Town. Entry is free and is walk-in only; there is no online pre-registration available. Registrations open at the venues two hours before the scheduled matches start.
Wright, says that the event having a presence at high profile events such as Comic Con Africa and rAge Expo shows just how far local esports has come in a relatively short amount of time. "There's every chance Red Bull Hit the Streets will unveil South Africa's next big esports athlete, and personally I can't wait to see that talent on offer," Wright concludes. More information on Red Bull Hit the Streets can be found here.