We were privileged enough to receive our review unit of the 14″ Acer Swift 5 laptop just before the COVID-19 lockdown began, so we got to spend an extended period (double the usual two weeks) with this lightweight lockdown companion of note (pardon the notebook pun).
The Swift 5's skinny chassis is constructed from a super-light but durable metal alloy, with the whole package weighing just under a kilogram (990 g). This makes it very easy to carry it around, throw it in a backpack and forget about it while carrying the notebook around on your daily commute (once we get back to that stage again at least) or to varsity (if your a postgraduate business school students that is since the price is not so lightweight).
Connectivity and performance
This portable package does not skimp you out of a good port selection, since a USB Type-C port, two USB 3.0 inputs (with power-off charging support), an HDMI that designers and productivity warriors looking for a second display will love, a headphone/mic combo jack and a Noble lock slot. There's no Ethernet option, but to be honest, that would be expecting too much from such a thin and light frame. There's no SD card reader also which photographers, YouTubers and videographers will sorely miss.
Inside our review sample an 8th-gen Intel Core i5-8250U quad-core CPU that is clocked at 1.8Ghz, 8GB of RAM, a 256GB SSD. These keep Windows 10 Home running smoothly, even when running 12-15 tabs within Google Chrome as I normally do.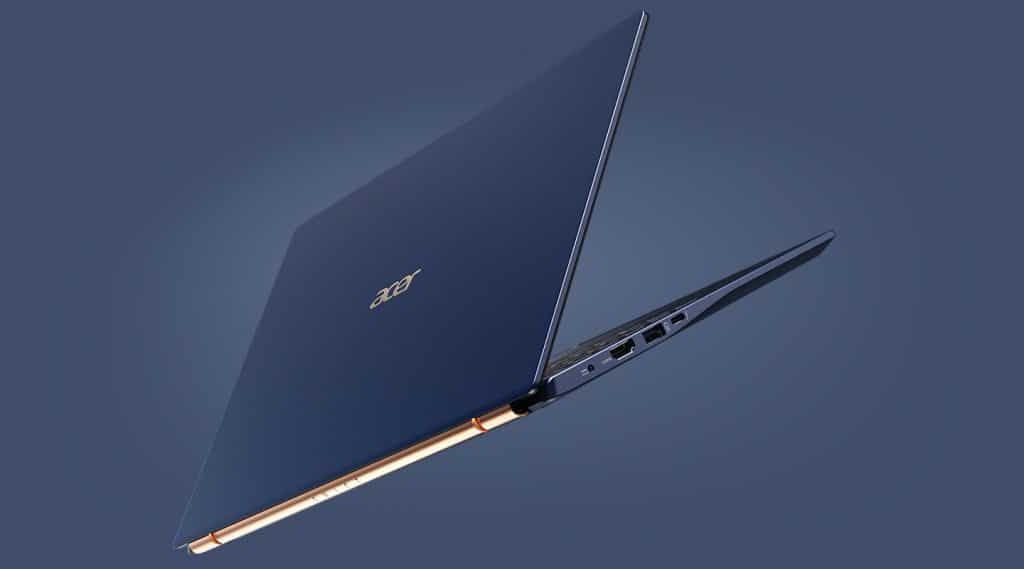 Display and audio
The 1080p touchscreen on the Acer Swift 5 allows for crisp images that are rich with saturated colors. The only negative for this panel in our opinion is the fact that it is prone to being reflective in  direct light so you should face away from rather than facing windows and not under direct office lights when using it.
On the audio front, the bottom-firing speakers of the Swift 5 are not a match in terms of volume for those of the Asus ZenBook 14 (UX434F) we reviewed at the end of last year, but you won't get any distortion while listening to your favourite Lockdown playlist, or watching your favourite Netflix/Showmax series.
In terms of the typing experience, the keyboard keys are a lot of modern laptops on both PCs and Macs quite a bit flatter than you might be used to, but it offers decent travel and a satisfying click, plus typing on these keys is not super loud either. As with most other Windows Precision touchpads we've had the pleasure to test out, the Acer Swift 5's touchpad is smooth and responsive and does a good job when it comes to palm rejection.
Battery life
Acer claims around 8 hours of battery life but in real-world terms, I got about six and a half hours of use, while multitasking, using Microsoft Teams as well as Google Chrome, and occasionally streaming my favourite tunes via Deezer – the brightness was at 50 per cent while I opted for the default power settings during these usage tests. On the weekend, I also managed to make it through the entire first season (eight episodes) of The Rain but that was with battery life set to the Best Battery life setting and screen brightness down to 40%.
Ultimately, Acer Swift 5 is an extremely portable laptop that will serve you well in this working from home age and thereafter when life gets back to normal. You get a good spec bang for your bucks along with a stylish package that you can take with you on the Gautrain, plane, business trip on the road, or simply from room to room in search of the best Wi-Fi signal. It can be had for an RRP of R16 999.