Laptops have been part of the computing world for quite a while, whether you are a roadwarrior in sales needing a corporate device with portability, a gamer, designer, video editor, or DJ, there's a notebook PC or MacBook that will suit you and your needs. Over the course of the latest few years, however, notebook manufacturers have begun to experiment with incorporating touch, 2-in-1 designs, ultrabook sleekness, and other novel design elements in order to find that hot new form factor that will entice buyers and chart the course for the future of the humble laptop. Acer's Predator Triton 900 is one such a device, as it is a 17″ performance notebook that features a convertible 4K display.
The Predator Triton 900 sports a one-of-a-kind flipping screen allowing for multiple gaming scenarios and better ergonomics. Acer's CNC-machined Ezel Aero Hinge flips, extends, or reclines the 17″ display, enabling you to switch between four usage modes, namely display mode for sharing the screen with others during gaming sessions, Ezel mode for playing mobile games on the touch screen, notebook mode for traditional gaming scenarios, and stand mode — effectively turning the Triton 900 into a tablet for gaming or using creator tools.
Here are our main likes and dislikes of this powerful and novel notebook PC.
Likes
It's Superman in Superman's suit.
Whatever you want to play at ultra settings and buttery smooth framerates, the Predator Triton has you covered. Under its metallic bonnet resides an Intel Core i7-8750H 2.2Ghz CPU, which is partnered with an overclockable Nvidia GeForce RTX 2080 GPU. Also on board is 32GB of DDR4 RAM and 1TB (1000 GB) NVMe SSD storage. Gamers will appreciate its advanced cooling system that includes Acer's 4th Gen AeroBlade 3D metal fans that increase airflow by 45%, and Coolboost technology that keeps the notebook PC cool during extended gaming sessions and while playing demanding AAA games.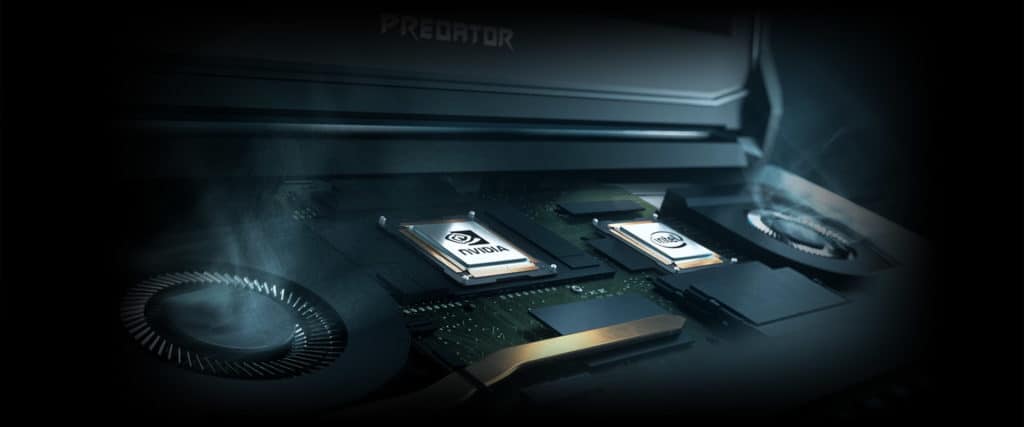 Doesn't leave you wanting in terms of connectivity & ports: In terms of ports, Acer's Predator Triton 900 packs a standard USB 3.1 Type-A port, two 3.5mm audio ports, a push-to-open USB 2.0 port that is hidden via a swinging arm. Designers and editors will like the HDMI 2.0, USB-C Thunderbolt 3, as well as a DisplayPort is onboard to connect this beast to an external display.
The third isn't it pushed the envelope and brings something new to the laptop table, although as our intro suggests we do dig this. It is that we love consuming media on this laptop, which is especially great during these unprecedented times of working from home and lockdown measures. The display is supremely detailed, bright and can adjust for your preferred viewing angle, while the accompanying sound experience is equally competent.
Dislikes
There is no hiding from the fact that this is a big boy laptop. It is a proper desktop replacement and more portable than any desktop since you could move it from room to room or carry it along with you to LAN gaming sessions at rAge whenever the new normal is not the norm anymore. However, measuring in at 429.3×302.3×23.6mm and tipping the scales at 4.13 kg, this laptop can be used as a workout prop while its charging brick can be an effective offensive weapon against those refusing to wear a facemask while in public.
The second is batter life. This device might be semi-portable and incredibly capable under the hood, but it definitely should not stray far away from a power plug. We praised its functionality as your personal, moveable 4K TV set for viewing Netflix series and movies, Showmax, and YouTube videos. But we have to say that we did not appreciate the fact that it will not make it through a two-hour-long Eskom load-shedding session, during which we tried to watch the final season of The Magicians or the latest couple of episodes of Billions.
Last, but definitely not least, it's recommended retail price (if you can find one in stock) that ranges from around R80 000 to more than R140 000 depending on the spec, which puts it out of reach for most South Africans and most definitely not a sensible purchase for those who have the cash on hand. For those looking for something different and capable of handling anything thrown its way, well the Predator world is your oyster.