Acer provides a wide range of gaming laptops to cater to various tastes and budgets, with the Nitro range targeting more budget-conscious users whilst the Predator range caters to the needs of gamers looking for devices at the premium end of the pricing spectrum.
The company's Predator Helios 300 (2019) comes in at almost half the price of the ultra-powerful Predator Helios 700 (costs around R57 000), but does not skimp on performance or design. This midrange gaming notebook isn't so over the top in terms of design as a lot of gaming PCs as it boasts a sleek and eye-catching metal and plastic chassis that sports stylish teal blue accents and keyboard backlighting found on other Predator notebooks.
This is not unlike a sleeper performance car that merely hints at the bonnet boasting an engine that will smoke virtually every other car. Gamers will definitely be used to the heft of this beast at 24.7 x 403.5 x 280 mm and 2.90 kg, but be aware that it takes up a bit more room than your average ultrabook and is noticeably heavier.
I am of the belief that a crappy display, regardless of the performance of a laptop will spoil the experience, but you do not have to worry about this with the Predator Helios 300, as it packs in a gem of a screen. Its 15.6″ full HD display (17.3″ Full HD IPS display) packs good colours and detail, along with the required high refresh rate of 144Hz for this kind of device. Furthermore, this screen is framed by a narrow border and includes a 3ms overdrive response times for a tear-free, seamless gaming experience.
Adding to the performance on the go is Intel's Core i5-9300H processor quad-core processor clocked at 2.40 GHz (can get up to a Core i7-9750H hexa-core clocked at 2.60 GHz), NVIDIA's GeForce GTX 1660Ti that boasts 6 GB of dedicated memory (can get up to a NVIDIA GeForce RTX 2070 GPU with Max-Q Design), 8 GB of DDR4 RAM (can get up to 32GB of DDR4 2666MHz memory), 1TB (1000 GB) worth of storage via an HDD (can get SSD storage options), and Windows 10 Home (can get Win 10 Pro) as the operating system software.
To make sure that performance remains optimal and the notebook remains cool, there are strategically placed intake and exhaust vents coupled with Acer CoolBoost technology, which ensures that the Predator Helios 300 can easily handle extended and intense gaming sessions with ease.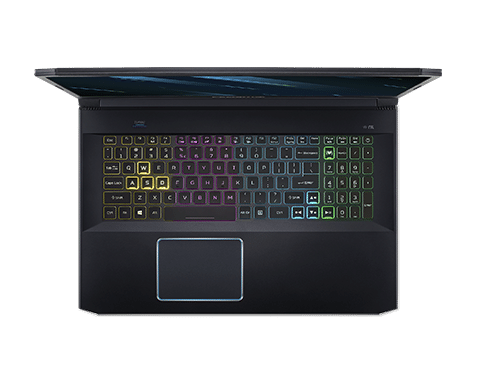 The techies amongst you can tinker with the settings using Acer's PredatorSense software whilst the less geeky can simply hit the Turbo key to bump up performance easily across the board including the CPU and GPU but also the cooling fans, which is quite loud in this mode. This is a non-issue though, if you use a gaming headset (especially noise-canceling ones) while gaming for a more immersive experience.
Equally loud is the speakers, which also does a good job of not sounding tinny at the loudest volumes. It could do with a bit more bass oomph if you are watching a movie or streaming you're favourite series though.
All of these specs translates to amazing 1080p gaming performance, whether you want to play less demanding games like Fortnight, Civilization VI, or Rocket League, or more demanding AAA titles such as Apex Legends and Call of Duty: Modern Warfare.
Beyond gaming, we liked the typing experience offered by the keyboard thanks to a balanced amount of key travel with a satisfying bounce, along with the a suitably competent touchpad. You also get a plethora of connectivity options including Gigabit Ethernet, HDMI, USB 3.1 Gen 1 Type-A, as well as USB 3 ports.
The 4-cell 3815 mAh Lithium Ion (Li-Ion) battery can last up to six hours with less demanding, productivity tasks and watching a Netflix Series for instance, and around half of that when gaming. Like the notebook itself, the accompanying charging brick is sizable and heavy.
Ultimately, the Acer Predator Helios 300 provides a fantastic full HD gaming experience. In addition, it is a capable multimedia consumption device, and can even do double duty as a productivity workhorse. The recommended retail price kicks off at R29 999 and then, like the options menu on a luxury German sedan, hits the up button on the budget elevator depending on your configuration. This is without a doubt one of the best laptops we have tested, thanks to its price being close to the Nitro range but performance and experience on offer being firmly rooted in the Predator range.